Wimborne War on Waste and In Bloom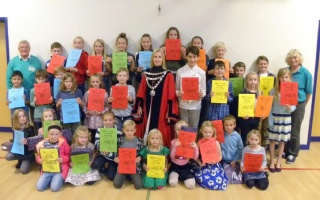 A busy weekend of celebrations in Wimborne. Well done St John's!
It was a busy day for St John's on Saturday 22nd September. Well Done to all the winners of the Wimborne in Bloom competition who collected their prizes on Saturday from the Mayor. Mrs Selby collected our gold award for the schools category. Well done everyone!
Martin also collected his prize for winning the Wimborne War on Waste poster competition. Thank you to all those who entered the competition.